I've spent the last six years bragging about InsurTech's potential in improving the insurance business. To quote some of my most famous contents about his: in 2016, the article My four Ps of InsurTech and, at the end of 2017, the book All the Insurance Players Will Be Insurtech. Moreover, one of the InsurTech topics I have talked more about has been telematics (UBI for my US friends) 👉 The Past, Present, and Future of Telematics and UBI
We have one of the US full-stack insurtech carriers that has been built on telematics foundations. Since its inception, the performance of Root's auto insurance book has been all but not good. For each dollar of premium paid by the client, their risk transfer approach has always cost more than 1.35$ (Lemonade has done worse 😱).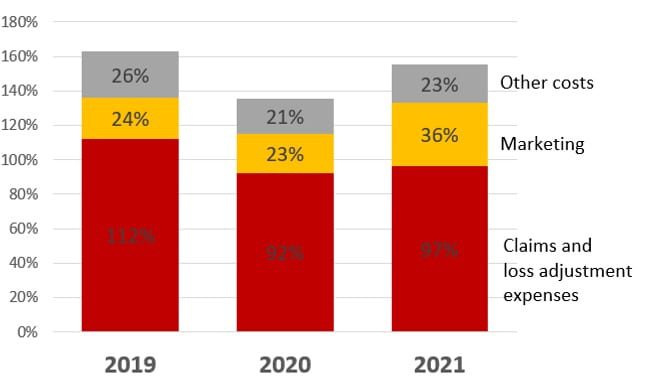 So we have an insurer that in 2017 underwrote $4M premiums, and - in just four calendar years - has scaled to more than $700M. Moreover, Root has obtained a $3.6B evaluation at half of this journey.
Many of you probably remember my opinion about this evaluation 👉👉👉👉👉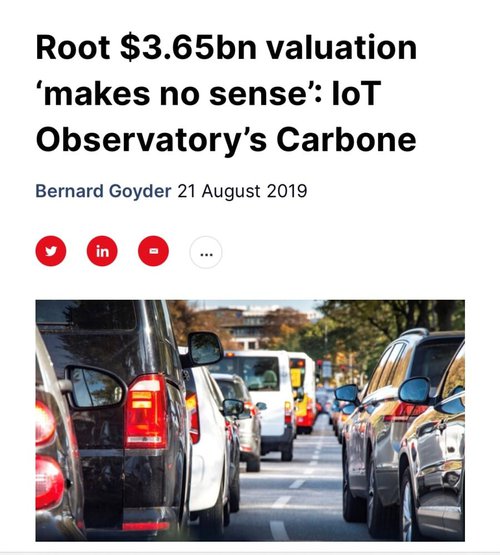 Root did its IPO in 2020 at $27 apiece and raised more than $700M.
On March 25th, 2022, $ROOT was priced around 2$ with a market cap slightly above $500M.
Something has not gone as they expected 🤷
We have read over the past weeks about Root's actions for reducing marketing and other expenses:
However, it doesn't seem that these can compensate for what is the main problem: the amount of claims compared with the premiums.
To have a reference, this is the historical series of US auto insurance KPIs 👉
...and the evolution of the loss ratios in 2021 👉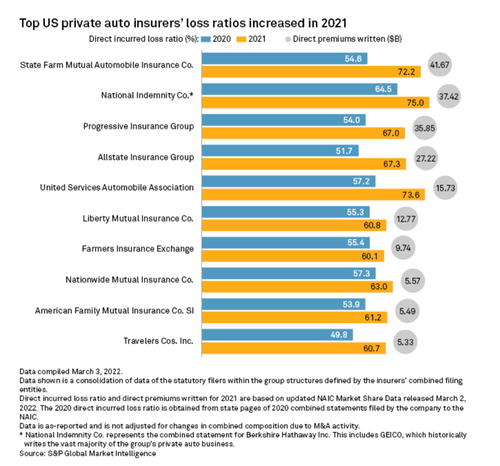 Here we have the key point of this edition of the newsletter: the book of business (un)profitability & insurtech (usage of telematics data).
How it started
Root started its journey in 2015 and the following year began to transfer risks using telematics:
I like this idea of using telematics data for providing the first quotation. Even Progressive has liked it (this probably is even more indicative that it makes really sense😅) and introduced Snapshot Road Test® in 2020.
How it's going
Root's loss ratio has been really really bad for the new policies, instead not too bad for the ones they have renewed.
From Root's Form S-1: "As of June 30, 2020, our term one and term two policy retention rates, excluding policies that do not make it through the underwriting period and company-initiated rescissions, were 84% and 75%, respectively. Over time retention rates may improve as we build deep relationships with our customers, and already we are seeing an improvement in retention with bundled offerings. Our retention rates include customers that retain through the first day of the subsequent term and exclude policies that do not make it through the underwriting period, as defined by state law, and company-initiated rescissions. Adjusting for these customers reduces one and two term policy retention by 33% and 10%, respectively."
From an oversimplified outside-in perspective, Root's usage of telematics data for insuring only good drivers (eliminating the other drivers) and charging them adequate price is not performing well at all: the first period if coverage has an awful loss ratio!
So, the company needs to apply an old portfolio pruning at each renewal.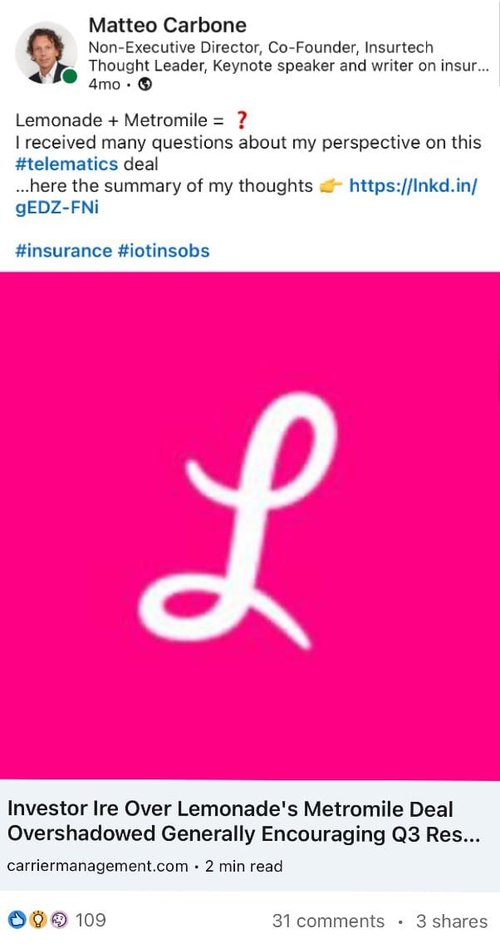 Even Lemonade has started to play with telematics data, and acquired Metromile (the pay-per-use insurance icon). On this side, nothing better on the telematics usage yet.
I recently spoke about this situation in Business Reporter's Future of Insurance claiming that insurance professionals have chosen the wrong InsurTech idols!
Root is not using telematics data well for pricing and risk selection. Moreover, they have even denied the usage of telematics data for claim management and for changing driver behaviors.
Instead, there are many different start-ups and incumbents' initiatives out there that are showing great returns on their telematics investment and can be used as inspiration.
One great example comes from one of the members of my IoT Insurance Observatory: Discovery Insure. I fell in love with this telematics approach in 2013 when I saw their brochure for the first time (below) and I started studying their behavioral change approach. My exchange (below) with their CEO Anton Ossip over the past weekend shows the potential of telematics data in the auto insurance business.
This is a great example of InsurTech as the superpower for assessing, managing and transferring risks.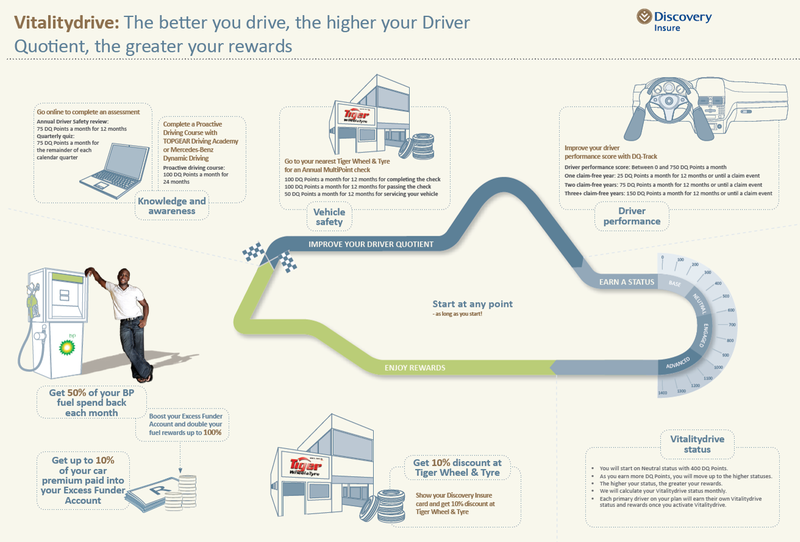 Matteo: We have known each other for almost 10 years and I have enjoyed discussing with you the sequence of innovation cycles you and Discovery Insure team have implemented. How has telematics been relevant in this journey?
Anton: "Our business began in June 2011. The simple premise was whether we could create a business that encouraged and rewarded people for being better drivers. This was especially relevant in a South African context where we had the third highest road deaths per annum in the world. We had the benefit of 20 years of shared-value insurance that Discovery had pioneered globally through the Vitality programme that encourages people to live healthier lives. We believed we could leverage off this science and know-how to achieve this. That is how Vitality Drive, our behavioural-based incentive programme, came to be. When we first started the business, the use of telematics technology in the insurance industry was not common but it enabled us to offer a highly-differentiated value proposition to an otherwise saturated market. Through vehicle telematics, we are able to accurately measure a client's driving behaviour from how and when they drive to whether they use their cellphones while driving. By doing this, we've been able to collect over 14 billion kilometers of driving data which has allowed us to risk-differentiate and offer more accurate premiums as well as provide exceptional rewards to our clients who drive well. Our telematics technology also allows us to provide unique safety features to our clients such as Impact Alert where we can detect if a driver has been in an accident and send emergency assistance without them having to call us."
"Vitality Drive has proven to be an extremely successful value proposition, not just for our business but for our clients who receive significant value. Over the last 11 years we have grown to be one of the larger insurers in our market, growing at double digits, profitable and demonstrating constantly improving actuarial dynamics. We recently spoke about our journey since inception which I have linked here." 👇
Matteo: InsurTech Fact & Figures is the headline of this newsletter. I've always admired Discovery's capability to track the innovation initiative impact. Could you share the main economic benefits achieved through the usage of telematics?
Anton: "As a business with lots of actuaries, measuring every aspect of the business is part of who we are. From day 1 we saw the incredible correlation between driving ability as we measure it and claims frequency and severity. In our experience, there is so much value you can get from telematics but it's not just the data that achieves this. It is ultimately how it's used. The Vitality Drive programme engages customers throughout their journey with us and through this we have been able to achieve the goals we set out for ourselves, including:
Attracting the best drivers. We found that drivers who joined Vitality Drive were on average more than 27% better drivers than the general population.
Improving their driving behaviour. On average, clients who install a telematics device have a 15% improvement in driving behaviour within 30 days.
Improving our loss ratio and passing these savings back on to clients. We found that our best drivers have on average a 54% lower loss ratio than our worst drivers. This allows us to reward these drivers with over 70% of their premium in rewards.
Retaining the best drivers by offering them greater rewards. We find that our drivers with a Gold or Diamond Vitality Drive status have an 84% lower lapse rate than drivers with a Blue Vitality Drive status. Over time, this decreases our overall loss ratio and lapse rate.
Getting to our clients the fastest and offering valuable safety features. For instance, in the last half of 2021, we reached out to over 36 000 clients when our data detected in real time that they might have been in an accident.
The data we've gotten from our telematics devices has also given us the ability to innovate and adapt our model over time so that we are able to offer the most relevant benefits to clients"
Matteo: Is it possible to change policyholder behaviors? This is a question I had to address in many of the workshops with the IoT Insurance Observatory members for the last six years in Europe and North America. Could you share something about the lessons learned and achieved results?
Anton: "Yes, through Vitality Drive, we have seen that it is possible to positively change behaviours. We have seen that the Vitality drive programme achieves behaviour change quickly where we see an incredible improvement in the driving behaviour of our clients as a result of installing a telematics device. On average, drivers have a 15% improvement in driving behaviour within the first 30 days.
"But we've also put the mechanisms in place to sustain this over time. Most drivers know that some of the things they do when driving are not ultimately good for them or those around them. As an example, it's no surprise that texting while driving is a very dangerous thing to do. This is where the concept of goal setting comes in. Merely educating clients driving well does not encourage behaviour change, even though people will often recognise the importance of such behaviours. By setting challenging yet attainable goals and providing explicit rewards for achieving the result, people increase their effort to improve the relevant behaviour. Vitality Drive offers weekly rewards for meeting your drive goal and we've seen that people who meet their goals every week improve their driving behaviour 15 times more than drivers that only achieve their goal once a month. So without the correct nudges, offered in the right way most people don't change their behaviour."
"By combining our telematics data with our claims data, we are able to more accurately predict accident risk. We see that clients who drive better (as indicated by their driving scores) are less likely to get into an accident. Clients who improve their driving behaviour score by more than 300 points in one year, have a 24% reduction in their motor accident frequency, again showcasing the efficacy of the model."
Matteo: Looking to Discovery Insure's journey, I have seen a focus on innovating commercial auto over the last few years. Would you like to share any Facts & Figures about these new offers?
Anton: "The transport sector contributes significantly to GDP with 76% of freight in South Africa being transported by road. Three and a half years ago we extended this to business customers and now have a growing base of commercial fleet drivers on the Vitality Drive for Business programme. Our commercial presence is growing quickly with the size of book doubling annually over the past 2 years. Discovery Business Insurance is a natural extension of Discovery Insure and is committed to creating better businesses by sharing value through incentives. Even during this early stage of our Vitality Drive for Business programme, we have seen encouraging results from Vitality Drive for Business that show that vehicles driven by better drivers have a lower loss ratio. Our driving data shows that vehicles that have the best drivers have a loss ratio that is 87% lower than those vehicles that are not on the Vitality Drive for Business programme"
"We have also extended the Vitality Drive programme through partnerships with Covea in the UK (Vitality Car) and in the Saudi market as (Tawuniya Drive). Both of these businesses showing favourable dynamics and provide the opportunity to make a significant impact to drivers in those markets. We expect such partnerships to continue to develop over the next few years. We haven't stopped at developing a programme for Personal lines clients."
See you next month with other facts and figures supporting my belief:
InsurTech is good‼️
InsurTech is right‼️
InsurTech works‼️
---
Find here Matteo's newsletter: bit.ly/InsurtechNewsletter