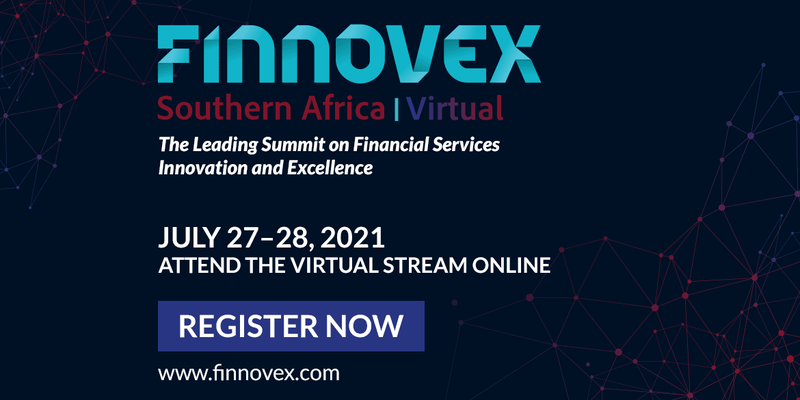 Exibex Organises the 2nd Annual Edition of Finnovex Southern Africa and 7th Edition from the Finnovex Global Series to examine how technology is Changing the Delivery of Banking and Financial Services.
As it is imperative to invest in a digital future and develop new technological solutions in data, advanced analytics, digital and new delivery platform. It is also important that fintechs and banks collaborate to support businesses and aid people to remain safe, healthy, productive, and connected in the face of COVID-19 and beyond.
The Summit starts from the 27-28 July 2021 and it will host CXOs, Senior Vice Presidents, Vice Presidents, Directors, and Heads of departments from Banking and FI industry involved in:
Mobile Banking; Digital Transformation; Digital Banking; Blockchain; Cyber & Cloud Security; Islamic Banking; Fintech; Strategy & Operations; Retail Banking; R&D Innovation; Risk & compliance Management; Product Development; Cryptocurrency; Customer Experience; IT; Big Data Analytics; Open Banking (API) and Innovation.
The event, being organised by Exibex will be held virtually. Finnovex Southern Africa is a part of the Finnovex Global Series.
This year's edition is themed "Adapting Reinvention to Rapidly Changed World".
Anticipate:
➤ 25+ Trail Blazer Speakers
➤ 250+ Delegates
➤ 4+ Panel Discussions
➤ 8+ Networking Hours
➤ 10+ Keynote Sessions
Here are the attendee benefits:
Meet new, creative and inspired people, and form strategies you need to grow. Network, Share ideas and learn new strategies with over 250 of the sharpest minds in banking and financial services.
✓ Learn how to evaluate, deploy, use, and customize the financial technologies to improve business processes
✓ Hear first-hand from customers on the challenges they face across the entire value chain of financial processes
✓ Take away lessons learned, valuable case studies and key insights from peers to apply within your operations
✓ Meet with Fintech solution management, development, support and consulting experts
✓ Fully evaluate and understand how the comprehensive suite of applications can optimize your business process
✓ Visit the showcase centres and demos to better understand the latest solutions in the market that can help your business
Finnovex is dedicated to examining the Future of Financial Services on how disruptive innovations are reshaping the way they are structured, provisioned and consumed.
The Finnovex Global series, which is organised by Exibex, examines the Future of Financial Services and how disruptive innovations are reshaping the way they are structured, provisioned and consumed. The Finnovex series of Summits highlights thought leadership on cutting-edge issues with long-term implications to the industry and lays foundation for multi-stakeholder dialogues that explore the potential of these innovations to transform the financial ecosystem as well as the risks and opportunities that could emerge from shifts in the way financial services are designed, delivered and used in the future.
For more information, visit - https://finnovex.com/
If you would like to sponsor or be our event partner, please send us an email [email protected]