This week I cover 14 transactions that were covered in Crunchbase over the last 14 days across Pre-seed to Series B, and raising in total a bit over US$100ml. Segments covered this week included the following:
Crypto/Blockchain: Asset Management, Defi Staking, and Real Estate Investing, Wealthtech: Impact Investing, Private Equity Investing (for mass affluent), Advisory platform for value investing, Lending: Home Ownership, via Shared Equity, Student financing, Banking: LGBT+ friendly banking, Insurtech: Automated and Intelligent Claims Management, Payments: Pay and go, Real-Time Bank Payments, Personal Finance: Subscription Managment
All deals covered below and commentary to provide a bit of colour on each transaction that I tracked. Enjoy.
Crypto Deals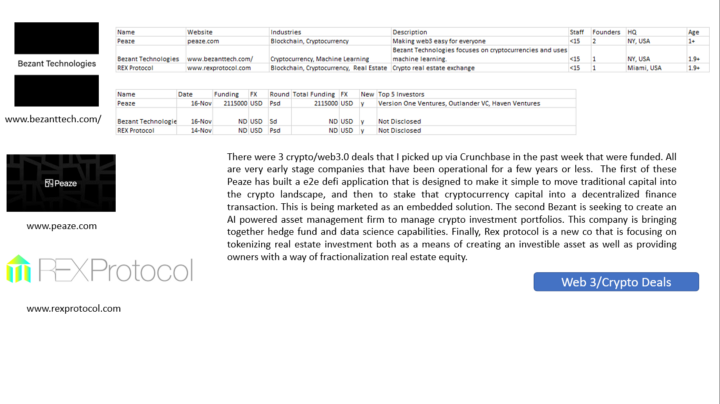 Wealthtech/Lending Deals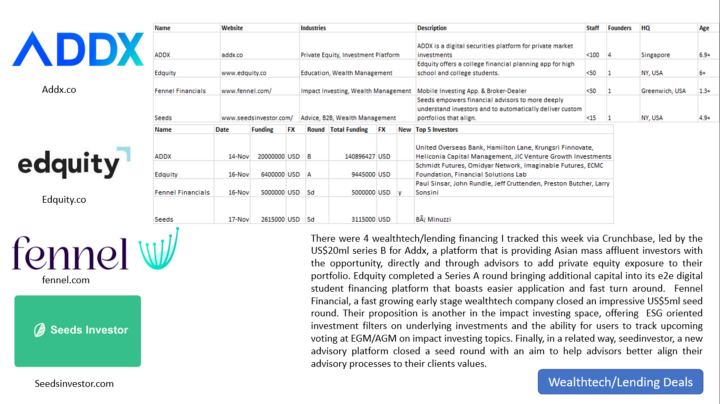 Insurtech, Real Estate and Banking Deals