Overview this week
Based on our requirements, I am featuring 17 transactions this week for companies based in Europe, APAC and North America.  My coverage features a number of pre-seed through to B round financings as well as a number of venture backed deals involving corporate investors alongside more traditional early and mid-stage investors in early scale-up stages of development. Segment wise, the deals in the last week were diversified, featuring a few involving core infrastructure for fintech, crypto and insurtech services, a few focused on lending (consumer, home and, sme) and a few others on alternative investing. Certain propositions featured the co-mingling of digitization, personalization and digital advisory, while others linked together embedded finance with an accompanied service offering. These types of solution designs are often connected with non-traditional business models and thus are designed to win over clients in two distinct ways.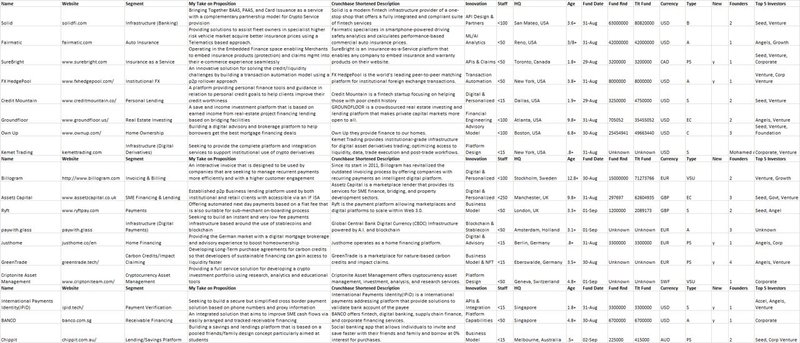 US Early-Stage Fintech, Insurtech and Crypto Related Funding Last week
Innovation Themes per deal: API Design & Crypto Partnership, Insurance Use Case for ML/AI Analytics, Integration of Embedded Insurance APIs & Claims Management, Transaction Automation (FX Rollover, Digital & Personalized, Financial Engineering for Enabling Business Model Innovation, Digitized and Scalable Advisory Model, Integrated Platform Design
Solid/solidfi.com/Infrastructure (Banking)
Bringing Together BAAS, PAAS, and Card Issuance as a service with a complementary partnership model for Crypto Service provision
Fairmatic/fairmatic.com/Auto Insurance
Providing solutions to assist fleet owners in specialist higher risk vehicle market acquire better insurance prices using a Telematics based approach.
SureBright/www.surebright.com/Insurance as a Service              
Operating in the Embedded Finance space enabling Merchants to embed insurance products (protection) and claims mgmt into their e-commerce experience seamlessly
FX HedgePool/www.fxhedgepool.com/Institutional FX
An innovative solution for solving the credit/liquidity challenges by building a transaction automation model using a p2p rollover approach
Credit Mountain/www.creditmountain.co/Personal Lending    
A platform providing personal finance tools and guidance in relation to personal credit goals to help clients improve their credit worthiness
Groundfloor/www.groundfloor.us/Real Estate Investing             
A save and income investment platform that is based on earned income from real-estate project financing lending based on bridging facilities
Own Up/www.ownup.com/Home Ownership  
Building a digital advisory and brokerage platform to help borrowers get the best mortgage financing deals
Kemet Trading/kemettrading.com/Infrastructure (Digital Derivatives) 
Seeking to provide the complete platform and integration services to support institutional use of crypto derivatives
European Early-Stage Fintech, Insurtech and Crypto Related Funding Last week
Innovation Themes per deal: Digital Process Automation with Personalization, Alternative Business Model, Provision of Blockchain & Stablecoin for frictionless payments, Digitization with Scalable Advice on demand, Front Loaded Business Model with Tokenization, Fully Integrated Platform Design
Billogram/www.billogram.com/Invoicing & Billing        
An interactive invoice that is designed to be used by companies that are seeking to manage recurrent payments more efficiently and with a higher customer engagement
Assetz Capital/www.assetzcapital.co.uk/SME Financing & Lending        
Established p2p Business lending platform used by both institutional and retail clients with accessible via an IF ISA
Ryft/www.ryftpay.com/Payments         
Offering automated next day payments based on a flat fee that is also suitable for sub-merchant on-boarding process
paywith.glass/paywith.glass/Infrastructure (Digital Payments)
Seeking to build an instant and very low fee payments infrastructure based around the use of stablecoins and blockchain
Justhome/justhome.co/en/Home Financing      
Providing the German market with a digital mortgage brokerage and advisory experience to boost homeownership
GreenTrade/greentrade.tech/Carbon Credits/Impact Claiming
Developing Long-Term purchase agreements for carbon credits so that developers of sustainable financing can gain access to liquidity faster
Criptonite Asset Management/www.criptoniteam.com/Cryptocurrency Asset Management
Providing a full-service solution for developing a crypto investment portfolio using research, analytics and educational tools
Asia-Pacific Early-Stage Fintech, Insurtech and Crypto Related Funding Last week
Innovation Themes per deal: APIs & Integration for Verification, Platform Capabilities, Alternative Mechanism and Business Model for Lending
International Payments Identity(IPiD)/ipid.tech/Payment Verification  
Seeking to build a secure but simplified cross border payment solution based on phone numbers and proxy information
BANCO/banco.com.sg/Receivable Financing     
An integrated solution that aims to improve SME cash flows via easily arranged and tracked receivable financing
Chippit/chippit.com.au/Lending & Savings Platform      
Building a savings and lending platform that is based on a pooled friends/family design concept particularly aimed at students