As we step into a post-Covid corporate landscape, automation and digitalization have become the new focus for entrepreneurs looking to see success. From a surge in remote working to cybersecurity threats tripling since 2020's global lockdown, all aspects of business practice will never be the same again.
The same goes for corporate finance. As more transactions are made online than ever before, the fintech market is expected to reach $25 Trillion by the end of 2022, led by the adoption of automation within both the financial and corporate sectors.
One particular technological development leading the way forward is the introduction of AI-assisted advisors, pioneering the way forward for financial management within the corporate sector. With an asset net worth of $980,541 million according to Statista, AI-powered fintech is set to revolutionize the future of finance as we step into a post-pandemic future.
Let's have a closer look into the current challenges of financial management in the corporate sector and discover how AI-powered finance assistants are aiming to automate success.
The Current Challenges Of Financial Management In The Corporate Sector
There are a number of challenges associated with small business management. From gathering funding to maintaining staff retention rates, keeping a small business afloat in a post-pandemic environment isn't for the faint-hearted.
In fact, the U.S. Chamber of Commerce claims that 80% of small business ventures fail to make it through the first year of practice due to the mismanagement of funds and lack of experience within the sector.
Your financial management system is either your key to success or the source of your downfall in the corporate sector. Without a digitalized system in place, many business leaders spend copious amounts of time keeping the books and managing expenditures, all of which are susceptible to human error.
Worse still, with cyber security threats rising by 600% since 2020, data protection is at risk for businesses leaders that store their transaction records and important financial information in one place.
This is where automation comes into play. Utilising technology within financial management not only saves business leaders time and effort but can enhance data security and reduce human error.
Could AI Be The Answer?
AI is quickly revolutionizing the future of financial management for a number of corporate sectors. Business leaders are now able to invest in AI automation in order to aid all aspects of financial and team management.
From financial assistant apps such as Olvia AI and Digit automating transactions and managing small business financing, to more specialized systems such as Hence AI that aim to digitalize the legal sector, the AI market continues to expand at a rapid rate.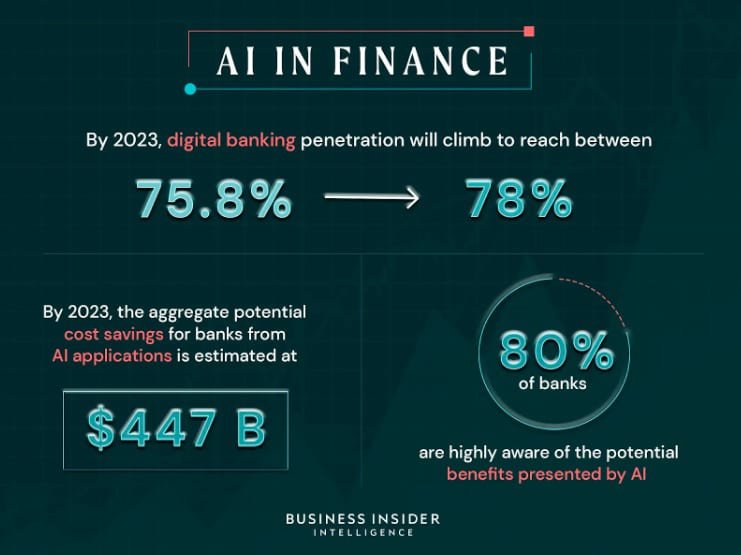 (Image Source: Business Insider)
As you can see above, AI is already taking over the financial sector, with AI-powered digital banking expected to climb up to 78% by 2023. The question is, just how much of an effect could AI adoption within financial management affect the corporate sector?
Well, AI-powered financial assistants could be the key to success for small businesses, according to tech experts at NerdWallet. AI-powered financial advisors are able to quickly learn about client spending habits and use predictive analytics in order to make suggestions on how business owners should spend their money, in turn improving company financial performance.
Let's have a closer look into some of the benefits associated with AI-powered finance assistants:
Improved Money Management: A recent report from Global Data revealed that 61% of clients claim that money management apps help them to make better decisions with their finances. As these programmes are able to help small business leaders track and manage their expenditure, entrepreneurs are much more likely to assign their funds to the correct areas and not overspend.
A Reduction In Staff Costs: Automating the accounting process not only saves business leaders time but can also save their pockets too. Investing in an AI-powered finance assistant reduces the need for accounting staff and financial advisors, who are often not connected to the company and do not have in-depth knowledge of all financial transactions.
Data Security: Money management apps are not only able to predict financial trends and advise business leaders on their spending habits, but they can also highlight potential fraudulent activity and provide solutions in order to enhance data security.
Are There Any Concerns?
The AI market is predicted to explode in the next ten years. As the world quickly moves online in response to Covid-19's digital shift, the financial sector is one of the areas most likely to see significant growth.
While the benefits widely outweigh the costs of AI implementation, many corporate employees are concerned about an automated future. As AI-powered finance assistants continue to reduce the need for physical advisors and accountants, we could see unemployment levels in the sector on the rise.
Digitalising the future does also come with cybersecurity risks. While blockchain advancements continue to secure data transactions, as with any online system, there are potential hacking threats, that business leaders need to take into account.
However, the future does truly look digital. As we find more ways to streamline business practices, the corporate sector can expect an efficient future.