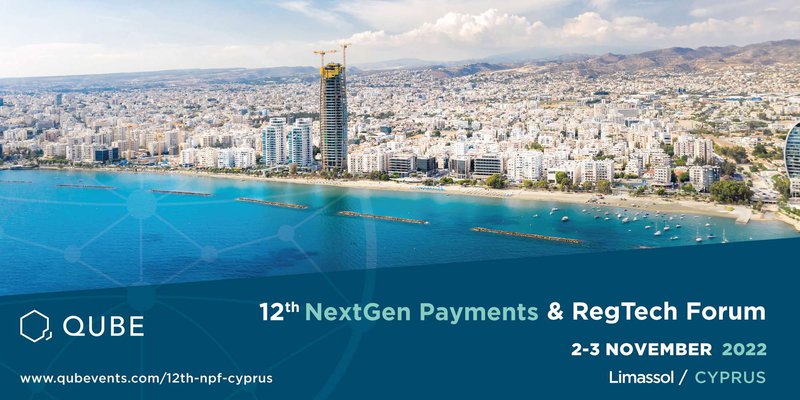 The 12th NextGen Payment & RegTech Forum is set to take place on 2-3 November 2022 in Amathus Beach Hotel & Resort in Limassol, Cyprus.
The 12th NextGen Payments & RegTech Forum, aims to discover how organizations are seeking to modernize and optimize operations, with a growing focus on expanding opportunities by adopting latest technologies that are reshaping the Payments and RegTech ecosystem.
This Forum will be an insightful gathering of global key influencers, innovators, strategists and thought leaders in the Payments and the regulatory space. Partcipants will take part in discussions around the latest market trends, digitalization, regulations, innovation and technology and take advantage of impactful networking opportunities.
"QUBE Events is pleased to host the 12th Edition of this globally recognised Forum in Limassol, Cyprus! At QUBE, we strive for great content delivered by global experts and optimized networking opportunities, all set within an incredible backdrop of a great venue! We look forward to another impressive gathering! "As stated by Lilly Pavlou, Director of QUBE Events
This Forum will be attended by senior executives from across Europe, UK, and MENA making it an unique opportunity to learn and network with leading international experts and like-minded peers.
AGENDA HIGHLIGHTS
The Evolving Payments Technology Landscape
Data Privacy and Cybersecurity
The economy of Metaverse
Next Generations of BNPL
Meeting the Needs of Your Business and Customers
Banks and FinTechs - The Partnerships of the Future
PARTICIPANT TESTIMONIALS FROM THE LATEST EDITION
"It is top notch, always gathering the right people with the right teams!" - EPIF
"We are guaranteed a return on the investment from the event before we even arrive which is just something with any other event." – TruNarrative ● "A fantastic event, very interesting, very timely, all the topics are current and hot. Very on the ball." – Bank of Cyprus
"This event has become a must come, must attend!" – EBA Clearing
"Engaged, growth opportunities and digitally focused" – Compliance Institute
KEY BENEFITS FOR PARTICIPATING
Interactive Hybrid Module
Build Thought Leadership
Generate Leads & New Prospects
Targeted Audience
Global Reach