72% of cryptocurrency investors are male, compared to 53% of gold holders
Crypto investors are 10% more likely to value being successful, and 7% more likely to value learning new skills than gold owners
Crypto investors are 'dog people', while gold investors prefer cats
New market research has emerged which explores how different cryptocurrency investors are from those who invest in traditional products like gold.
The cryptocurrency trading platform Xcoins used audience data from Global Web Index of more than 60,000 investors. The data, collected between 2017 and 2020, shows the vast behavioural and demographic differences between gold and cryptocurrency investors.
Most notably, Crypto investors are also 10% more likely to value being successful, and 7% more likely to value learning new skills than gold owners, of whom 73% place spending time with their family second-most important value in life. 
The data shows that while the majority of both gold and cryptocurrency holders fall into the 16-34 year old bracket, many more young people hold cryptocurrency than gold. 
Nearly half (46%) of gold investors are older than 34, compared to just over a third (36%) of those who have invested in cryptocurrency.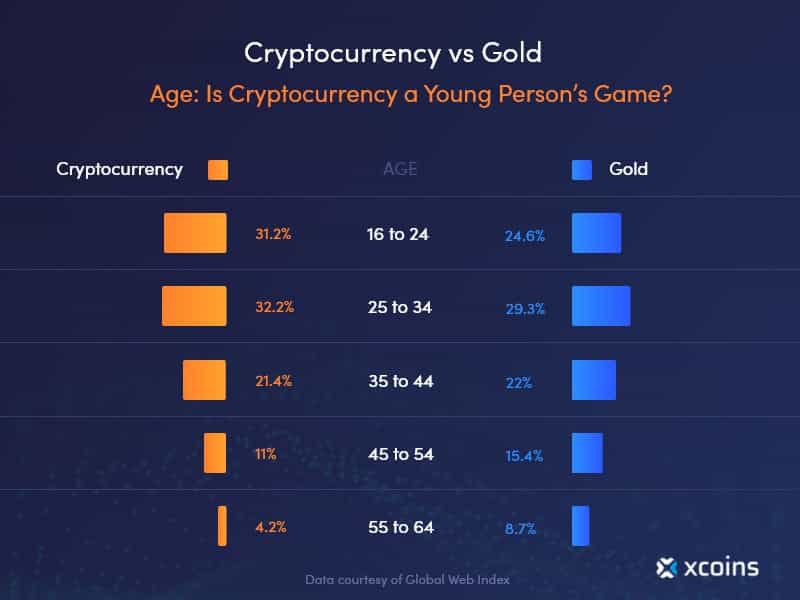 Unsurprisingly, the research found that both groups valued being financially secure as the most important thing in life (78%). 
This is where the similarities end, though. The research showed that just 28% of cryptocurrency holders are women, compared to 47% of gold holders. Gold investors are more likely to own a cat than cryptocurrency holders (45% to 38%), while conversely cryptocurrency holders tend to be 'dog people' (43% to 38%).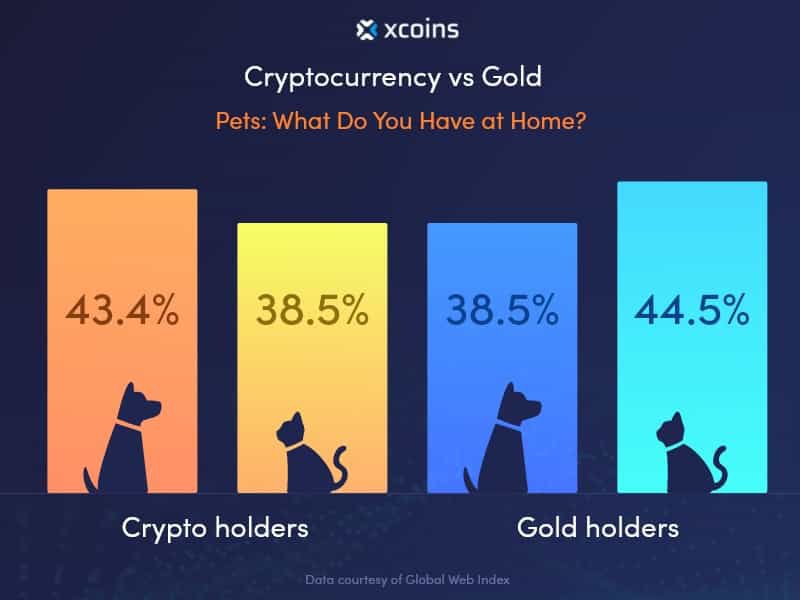 More gold investors are married with children compared to crypto investors who, on average, tend to be single with no children.
More cryptocurrency investors are renters (21%), than gold holders (15%), who in turn are more likely to own their property outright.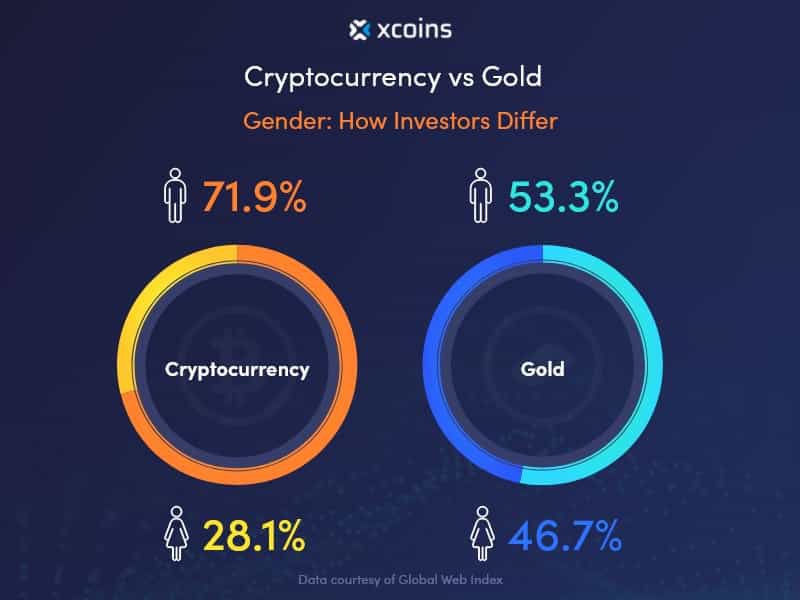 Rob Frye, from Xcoins.com, says:
"If bitcoin is to succeed in the mainstream then it needs support from all demographics. No-one is stopping women from entering or investing the crypto space, but little is being done to encourage them either.
With data suggesting that female investors view cryptocurrency as a riskier investment, it's clear that more needs to be done in this area to educate and inform people of what risks cryptocurrency actually carries instead of letting assumptions hinder the growth of the asset."
Bitcoin recently fell 20% from its latest all-time high of $58,000 but has since bounced back above $59,000. 
Rob Frye went on to add:
"Bitcoin still remains up over seven-fold compared to a year ago. Seeing a dip like this after its record growth is completely normal and healthy. Interest in the currency is still strong so while we expect Bitcoin to remain volatile, we continue to expect a long-term upwards trend."
Other interesting highlights:
Cryptocurrency owners are more likely to own gold than gold owners are to invest in cryptocurrency
Cryptocurrency owners are more likely to value traditional gender roles
Gold owners care more for recycling, yet crypto holders value helping others before themselves
Gold users use social media to kill time, whereas crypto holders use it to find what's trending.
Sources
https://markets.businessinsider.com/currencies/news/bitcoin-ethereum-cryptocurrency-traders-overwhelmingly-male-etoro-study-show-2021-2-1030049339
Audience data courtesy of Global Web Index: GWI Q3 2017- Q4 2020 of 32,634 cryptocurrency investors and 28,652 gold investors.