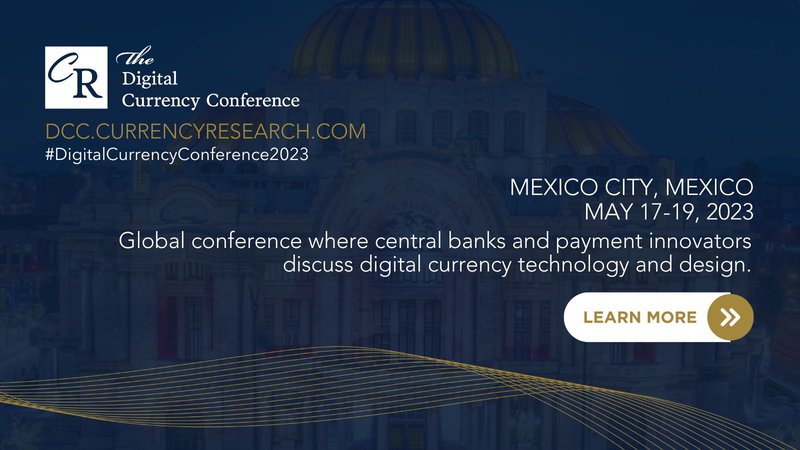 Currency Research (CR), a leading organizer of premier conferences for the currency and payments community, is inviting innovators in the digital currency space to submit nominations for the Advancement in Digital Currency Awards and to apply to participate in the Digital Currency Fintech Innovation Showcase. Both initiatives will take place as part of CR's annual Digital Currency Conference, a gathering of global policymakers, regulators, and technology and innovation experts, which is being held in Mexico City from 17–19 May 2023.
Open to all organizations with a digital currency-related solution, including fintech start-ups and commercial bank innovation hubs, the Innovation Showcase will provide a unique platform for 10 chosen participants to present their solutions to the Digital Currency Conference's esteemed audience in a series of rapid-fire demonstrations prior to the conference's Welcome Reception on 17 May.
The Digital Currency Awards, which will close the Digital Currency Conference program on 19 May, will recognize those organizations, initiatives, and individuals that have made significant contributions to the development of digital currencies in five categories:
Outstanding Advancement of Digital Currency
Best Innovation in Digital Currency
Best Financial Inclusion Initiative in Digital Currency
Best Sustainability Initiative in Digital Currency
Digital Currency Leader of the Year.
Products at all stages of development are eligible for consideration.
"Digital currencies of all kinds are developing at an astronomical pace, and we've witnessed tremendous progress in this space since our inaugural Digital Currency Conference last year," says Melanie Hawgood, CR Vice President – APAC. "With these two initiatives, not only are we recognizing the most notable achievements in digital currency innovation of the past year, we are also providing a platform for those emergent solutions that will help to shape this ecosystem in the years to come."
The deadline to submit nominations for the Digital Currency Awards and to apply for the Innovation Showcase is 15 April. For more information, contact Melanie Hawgood at [email protected]
About Currency Research
Founded in 2003, Currency Research (CR) provides educational services to the currency and payments community through its conferences, publications, reports, research, and consulting offerings. In addition to the Digital Currency Conference, CR organizes the Currency Conference, the Central Bank Payments Conference, the Banknote Conference, the Global Payments Summit, and a series of regional Cash Cycle Seminars. CR also publishes the monthly e-magazine Central Bank Payments News and is the co-founder of the Universal Access to Payment Summit, a not-for-profit initiative with financial inclusion at its core.
For more information, visit www.currencyresearch.com.