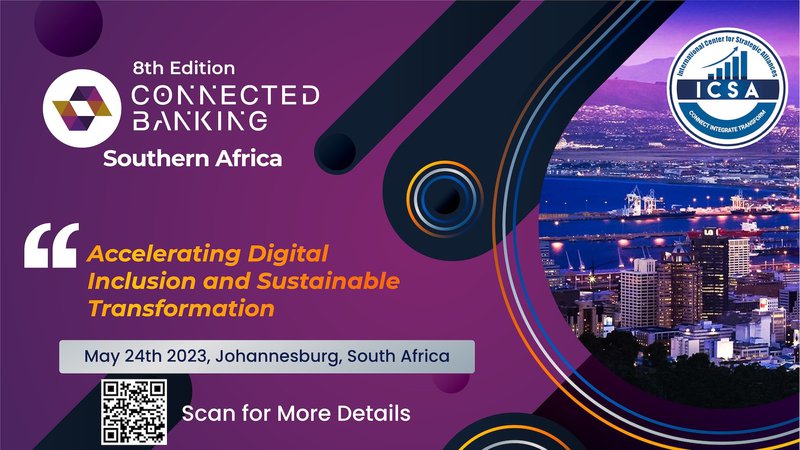 The 8th Edition of the Connected Banking Summit Southern Africa is set to take place on May 24, 2023, in Johannesburg, South Africa, bringing together top executives, experts, and leaders from the banking and financial services industry. The summit, organized by the International Center for Strategic Alliances (ICSA), is a platform for business professionals, experts, and practitioners from the BFSI community to discuss practical and cost-effective solutions for digital banking transformation.
Under the theme "Accelerating Digital Inclusion Through Sustainable Transformation," the summit will discuss into the impact of cutting-edge technologies such as AI, ML, deep learning, cognitive computing, and digital assets on the financial services ecosystem. Leading industry mavens will share their experiences and best practices, providing valuable insights and inspiration for attendees.
The Connected Banking Summit is a not-to-be-missed opportunity to stay ahead of the curve in the rapidly evolving digital banking landscape. With over 250+ delegates expected to attend, the summit offers a unique opportunity for networking and collaboration, making it a must-attend event for those seeking to enhance their digital transformation journey.
In line with the summit's focus on accelerating digital transformation and delivering a delightful customer experience, the event will feature keynote speeches, interactive panel discussions, and case studies, ensuring a rich and engaging experience for all attendees. Don't miss out on this opportunity to gain valuable insights, network with peers, and shape the future of digital banking.
Summit focus: -
Digital Inclusion and Transformation
Africa's Digital economy
Customer Experience
DeFi, Lending and Financial Inclusion
Zero Trust Frameworks – Powering Resilient organizations
Future of Payments
Data and Analytics – Empowering decisions
Digital Access and Financial Security
Synergies Between traditional FIs and Telecoms
Role of AI, ML and Robotics in Financial Services
ESG & Sustainability
The Current Edition will have inputs from: -
Bradwin Roper, CEO FNB Connect, FNB South Africa
Mukwandi Chibesakunda, Chief Executive Officer, Zambia National Commercial Bank (Zanaco) PLC
Marijke Guest, CIB CIO, Nedbank
Maurits Pretorius, Chief Strategy Officer, Payments Association of South Africa
Verushca Hunter, Digital Technology and Innovation Executive, Absa Bank
About ICSA
International Center for Strategic Alliances is a group of leading industry professionals and innovators. Our core actions comprise of innovations and use case scenarios of industry leaders, by our research and from leading information sources for businesses and professionals all over the world.
For more information get in touch with us
https://connected-banking.com/summit/sa/
Mohammed Thoufiq
+44 20 3808 8625